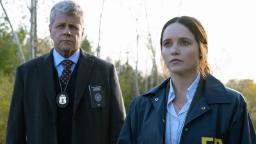 Rebecca Breeds stars as FBI agent Clarice Starling, who takes a case in her native West Virginia however nonetheless suffers from the reminiscence of her former case involving serial killer Buffalo Invoice, whom she caught with the assistance of serial killer Hannibal Lecter.
Jodie Foster performed Starling in Jonathan Demme's 1991 movie adaptation. Starling was first launched in Thomas Harris' 1988 novel, "The Silence of the Lambs."
The sequence will even function Starling's FBI colleague Ardelia Mapp, performed by Devyn Tyler, and kidnapping survivor Catherine Martin, performed by Marnee Carpenter.
The primary peek on the trailer aired Sunday evening on CBS.
"Clarice" premieres February 11 on CBS.